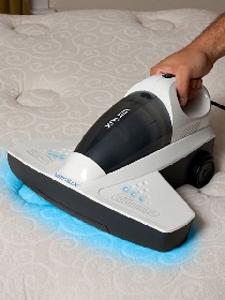 Keep your mattress and bedding germ-free with the CleanWave UV-C Sanitizing Furniture & Bed Vac. The Furniture & Bed Vac uses UV-C light to eliminate up to 99.9% of viruses (including H1N1), bacteria, germs, mold, dust mite and flea eggs. Unlike harsh chemicals than can damage fabrics and upholstery, the Furniture & Bed Vac is ideal for cleaning difficult to sanitize household surfaces including bedding, mattresses, curtains, upholstered furniture, carpets and pet areas. The Furniture & Bed Vac features a 400 Watt motor providing strong, powerful suction and a detachable hand vacuum with an on board nozzle and brush attachment for quick cleanups and hard to reach places.




Pressing Tools
Pressing as you sew is one important procedure that is often neglected. It is the secret to a perfectly finished quilt or garment.
The most basic sewing tools are an iron and

ironing board.



Steam/spray iron, Press cloth, Sleeve board, Tailors ham, and point presser are some of the pressing tools you will need.



Euro Pro Shark

GI468 Rapido Professional Lightweight Electronic Steam Iron, Stainless Steel Soleplate

PanasonicSteam & Dry Iron

1200W, Retract Cord Reel Heel Rest, Adjustable Variable Steam, Spray Mist, 3 Way Auto Shut Off, Non Stick Soleplate




Everyday Irons
Pressing Aids

Specialty Irons

Steamers



Looking for a gift, but don't know exactly what to get your favorite crafter? When the choices are overwhelming, and time is running out a gift certificate is the perfect gift for anyone, anytime and anywhere. Purchasing a Gift Card gives you the option to give something they really want. The fastest way to shop for the perfect gift! A Gift Card is the perfect gift any time of the year! A Gift Card will let them purchase what they need for that special project they have been waiting to start.


Finally, straight talk on how to start your own machine quilting business doing something you love! Thinking of starting your own business, then you need to read this book
"How to Start Your Own Machine Quilting Business"